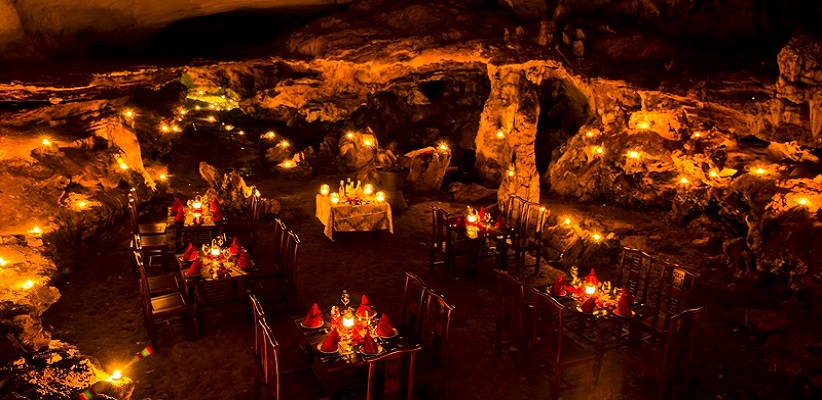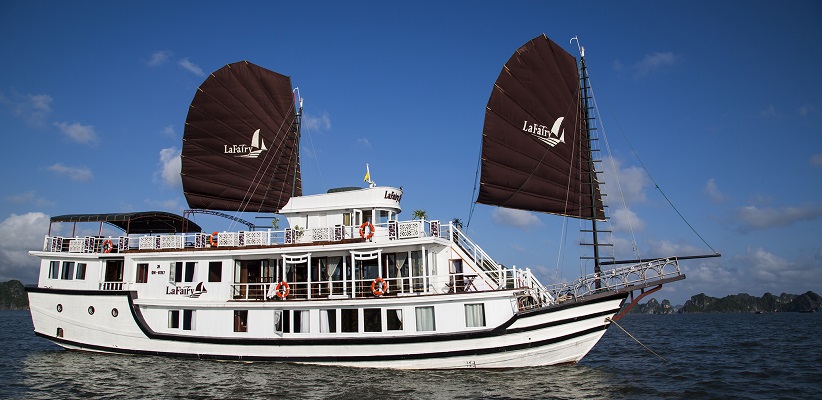 Dinner in CaveLa Fairy RestaurantLa Fairy CruiseDouble cabinTwin cabinSundeck Relaxing

Price from: USD $160.00
La Fairy Sails
LAFAIRY SAILS' FACTSHEET

Built in traditional wooden style with 11 premium balcony and deluxe sea-view cabins, LaFairy Sails offer you the most comfortable stay in Halong Bay.

GENERAL INFORMATION
Built:
When: 2015
Where: Halong city
Design concept: Vietnamese Traditional Wooden Style
Operating area: Bai Tu Long Bay and Halong Bay
Junk:
Length: 30m
Width: 7.2m
Height: 3m
Deck 1: Guest cabins and kitchen
Deck 2: Guest cabins + Bar and restaurant
Sundeck: Large with comfortable sunbeds and chairs
Generator: 4.500KVA / Cruising speed: 6 nautical knots per hour
Crew: 13
Number of Guest Cabins 11
Passenger Capacity 26

Accommodation:

Room category No of room Size( m2) Extra bed Description (view)
Premium Balcony Cabins 2 22m2 Yes Private balcony, bath tub and sea-view windows
Deluxe DBL & TWN Cabins 5 15m2 No Sea-view windows
Deluxe Triple Cabins 2 18m2 Yes Sea-view windows
Deluxe ConnectingCabins 2 30m2 Yes Sea-view windows

Cabin Amenities
Natural Hardwood Floors and Furniture
Individually Controlled Air-Conditioning
Hot and Cold Shower
Complimentary Bottled Water
In-house Slippers
Toiletries and Bathroom Amenities
Hair Dryer
Fire Extinguisher
Life Jackets
Emergency Lighting and Hammer
Sea-view Windows
Services and Facilities
Reception (English and Vietnamese Speaking)
24-hour security
Themed Parties on Request
Tai Chi Session
Cooking Demonstrations
Internet on board
Car Rental Service with Skillful Drivers
Kayaking or Bamboo boat& Fishing Equipment
Fully-furnished Cabins
Dining Room
Cuisine: Vietnamese Seafood & International Dishes

Breakfast 07:00 – 7:30 daily

Set Menu Lunch 13:00 – 14:00 daily

Buffet Lunch 10:30 – 10:45 daily

Seating Capacity 26 passengers

BBQ Dinner in cave 19:00 – 20:00 daily

On – Board Activities

Swimming
Kayaking or rowing boat
Tai Chi
Cooking Demonstration
Squid Fishing
Excursions to Caves& Fishing Village
Dinner in cave
Cruising Events (by request)
Meetings & Conferences Wedding Ceremonies
Themed Parties

TRANSPORTATION

Shuttle Bus Service: Daily departure at 7:45-8:15AM from Hanoi with compliment bottle of water on bus. Pick up and drop off at any hotels near by the Old Quarter.

Private Car Service: On request

Check-in/Check-out
Check in time: 12:00 - 12:30 noon
Check out of room time: 10:00 AM

Disembark time:12:00 - 12:30 noon

Port Location
Port name: Hòn Gai International harbor
Address: 06 Lê Thánh Tông street, Hạ Long city, Quảng Ninh Province.
Distance from Hanoi: 170 Km
Distance from Nội Bài (Hà Nội) airport 175 Km
Distance from Cát Bi (Hải Phòng) airport 75 Km
A three day, two night cruise on LaFairy Sails is the perfect choice for you to see the magnificent World Heritage site - Halong Bay, the more primitive, off-the-beaten-track Bai Tu Long Bay and the isolated Lan Ha Bay, and to also get a close look at the area's unique and spectacular limestone formations and caves. You will visit white sandy beaches, hidden caves, a typical fishing village, go kayaking, and just relax, all while enjoying the luxury of your comfortable, fully-equipped cruising boat with its well-trained staff and delicious meals.

DAY 1: HANOI – HALONG BAY – MÊ CUNG CAVE (L,D)

12:00 – 12:30 : Embark the LaFairy Sails at Hon Gai International harbor. Enjoy welcome drink, cruise briefing & start cruising.

13:00 – 15:30 : A sumptuous is served while we cruise into the untouched Bai Tu Long Bay with its thousands ofextraordinarily shaped limestone islands, considered by the heaven on the earth

15:30 – 17:00 : Explore Lờm Bò area and be charmed by this outstanding masterpiece of Mother Nature. Visit Mê CungCave – one of the most beautiful caves in Halong Bay and climb up to see the panoramic view of the bay from above. Enjoy swimming in the beautiful crystal water of the Bay (optional).

17:00 – 19:00 : Return to the LaFairy Sails for aSunset party and admire the best moments of the day when the sun starts to set.

19:00 : Savor an amazing, dreamlike dinner in Fairy cave (or Drum cave or Ban Chan beach) with extremely delicious food and be awed by a wonderful fruit and vegetable carving performance. Afterwards, socialize with new friends and crew members, enjoy squid fishing, or simply relax on the boat's top deck in the middle of the tranquil bay. Overnight on board.

DAY 2: HALONG BAY – LAN HA BAY (B/L/D)

06:30 – 07:00 : Start your day with Tai Chi exercises or a photo hunt
07:00 – 08:00 : Have breakfast on board.
08:00 : Transfer to a Day Boat for a cruise to Lan Ha Bay.
08:30 – 12:00 : Explore the Light and Dark Cave by kayak. Swimming and relaxing at the beaches
12:00 – 14:00 : Return to the day boat. Enjoy a barbecue lunch on board. More time for kayaking to explore Lan Ha Bay or just leisure at the beaches.
14:00 – 14:30 : Visit a floating Pearl Farm and learn the technique for making high quality pearls.
14:30 – 16:30 : Cruise back to the LaFairy Sails.
19:00 : Enjoy dinner in Fairy cave (or Drum cave or Ban Chan beach)

Squid fishing or just laze around
Overnight on board

DAY 3: BAI TU LONG BAY – VUNG VIENG – HON GAI HARBOR – HANOI (B, L)

06:30 – 07:00 : Start your new day with a Tai Chi session or a photo hunt
07:30 – 08:00 : Enjoy another breakfast in the fresh air and peaceful beauty of the Bay
08:00 – 09:30 : Start cruising to Vung Viêng fishing village.

Options 1: Visit the village by bamboo boat, get closer to the characteristic landforms and learn more about the local way of life.
Options 2: Enjoy swimming on a white sand beach or go kayaking through the hidden beauty of the Bay.

09:30 – 10:00 : Pack your luggage and check out of the cabin while cruising towards the harbor.
10:00 – 11:30 : Join in an informative cooking demonstration before enjoying an exceptional Buffet lunch.
12:00 – 12:30 : Disembark the LaFairy Sails& Farewell.

INCLUSIVE:
- Welcome drink
- Deluxe en-suite cabin with A/C, hot water
- All meals on boat
- Dinner in cave or on beach
- English & French speaking tour guide on board
-Kayaking or bamboo boat
- Entrance & Sightseeing fees
- Cooking demonstration
- Tai Chi
- Insurance, taxes and service charges

EXCLUSIVE:
- Beverages, Tips & Personal expenses
- Bank charge (for payment by credit card)
- Airfares
- All other services not clearly mentioned above.
- Land transportation Hanoi – Halong – Hanoi

WHAT TO BRING?
- Sun Glasses
- Sun Block
- Wide Brim Hat
- Insect Repellents
- Swim Suits
- Camera
- Warm Clothes (in winter from November to April)
- Original valid passport is required upon check-in onboard

IMPROTANT NOTES:
- This itinerary is subject to change without prior notice if adverse weather or tide conditions occur.
- Day boat is a sharing boat, used for outdoor activities on the second day only
- Advanced reservations are required with complete passenger details, including Full Name, Gender, Date of Birth, Nationality, Passport Number, Visa Expiry Date.
- Please inform us of special requests on food (diet or vegetarian) before departure.
Price of 2Days/1Ninght:
Cabin Category

2 persons

4 persons

Single Supplement

Charter

Deluxe Oceanview

169 USD/pax

160 USD/Pax

275 USD/cabin

5,050 USD

Suite Oceanview

185 USD/pax

170SD/Pax

310 USD/cabin

Royal Suite Oceanview

240 USD/pax

235 USD/Pax

370 USD/cabin


Price of 3Day/2Ninght:
Cabin Category

2 persons

4 persons

Single Supplement

Charter

Deluxe Oceanview

280 USD/pax

270 USD/Pax

420 USD/cabin

Request

Suite Oceanview

330 USD/pax

320 USD/Pax

530 USD/cabin

Royal Suite Oceanview

460 USD/pax

440 USD/Pax

730 USD/cabin


You

Also Viewed